Atom.io and ProtoREPL
Proto REPL is a Clojure development environment and REPL for Atom.io.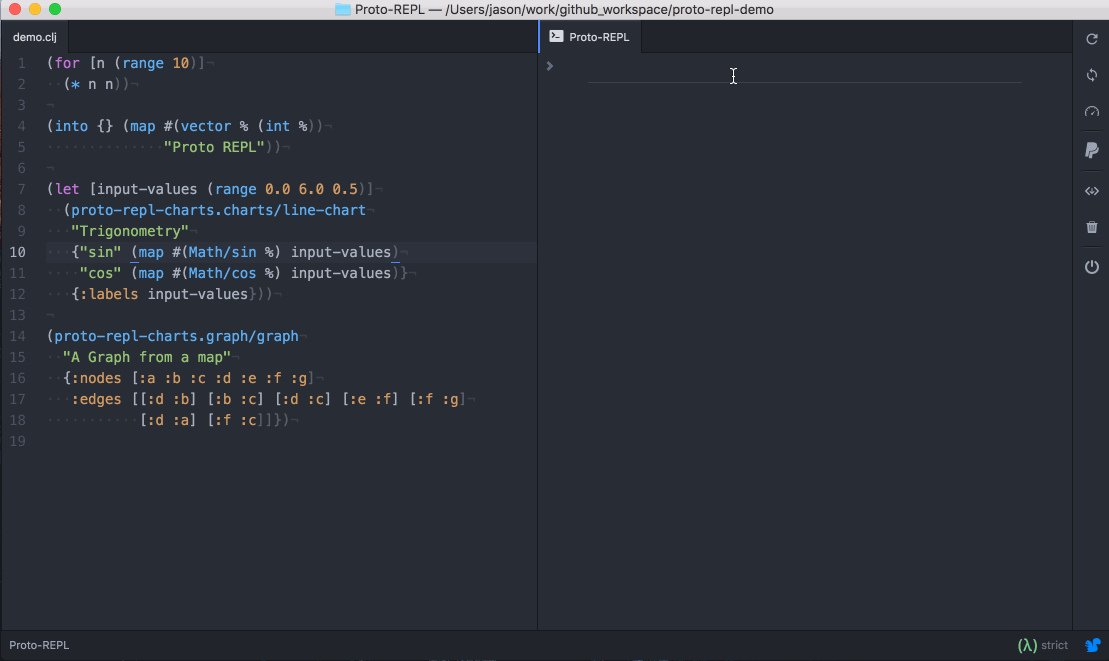 Install Atom.io
Follow the instructions for your operating system
Install Proto REPL package
Open the Atom Settings. In the install section, search for each of the required packages and install them. If you have time, also install the recommended packages.
Required packages
ink - Proto REPL dependency used for inline display and the REPL output.
proto-repl - Clojure REPL, autocompletion, etc.
Recommended packages
Configure ProtoREPL with Leiningen
Go to the Proto REPL Settings (Atom Preferences, then packages, then Proto REPL)
Modify "Lein Path" to the path where Leiningen.
Use which lein in a terminal to get the path.
Example project: Welcome to ClojureBridge
We have created an example Clojure project called "Welcome To ClojureBridge" to test your development tools.
If you are comfortable using the git version control tool and the command line, then you can clone the project using git
git 

clone

 https://github.com/ClojureBridge/welcometoclojurebridge
Test your editor with a clojure project
Add the project called welcometoclojurebridge.
Open the project.clj file and add the dependency [proto-repl "0.3.1"].
Open the src/welcometoclojurebridge/core.clj file.
Ctrl-Alt-, s to start a Clojure REPL and display the REPL in a new window.
You should see a friendly message from the ClojureBridge team.